Arabian Eco-tours organizes special interest tours to Yemen, the Mainland and to Socotra Archipelago, catering for individuals and small groups up to 12 persons maximum one to four weeks.

Let us arrange a trip suited to your own very special interests. You decide what you want to do and where you want to go and we will suggest itineraries, make all the arrangements and provide your logistic needs. Think adventurously.

Some ideas:
» Birding for the endemics in Yemen including its Socotra Archipelago
» Plant hunting on Socotra
» Tours of archeological and historical sites in Yemen
» Trekking and hiking in magnificent mountains surround with agricultural terraces and amazing environment
» Camel treks and around Socotra
» Pelagic birding voyages in Bab Al Mandab and the Gulf of Aden
» Desert Adventure tours
» Snorkeling and diving in the Red Sea and Socotra

All trips can involve a mixiture of hotels of all categories and camping according to your wishes.

Where appropriate all tours include any permits that may be required, experienced drivers who are familiar with the needs of tourists, 4WD vehicles and English, French, German, Spanish and Italian speaking guides for cultural tours.

We can make all arrangements for international and domestic flights.

Tell us what you want to do and we will advise you and provide you quotation.

Acknowledgements: The success of Arabian Eco-tours has been due in part to the promotional work of Mr. David Stanton, chairman of the Yemen Ornithological Society and Mike Jennings, coordinator of the Atlas of Breeding Birds of Arabia. My many satisfied clients include: Dave Sargent, Brian Foster, John Hornbuckle, Nick Moran, Hugh Buck, Hanne and Jens Eriksen, Graham Talbot, AbdulRahman AlSirhan and many more. Please write for references.

I would also like to thank Mrs. Denyse Woods, the famous Irish author, for mentioning me in her "Like Nowhere Else" book, Ms. Frances Linzee Gordon, the author of Lonely Planet, for mentioning me in the Arabian Peninsula book, 2004 edition, to Ms. Elizabeth White of the British Council and Mr. Dennis Cox of Millennium Relief and Development Services for recommending and for the support in establishing Arabian Eco-tours.
Yousuf Mohageb at Khowkha
Photo: Alf Petersson
Address: P. O. Box 5420
Sana'a, Rep. of Yemen
Tel: + 967 1 82 49 36
Tel/ Fax: + 967 1 32 61 34
Mob. : + 967 711883644
E-mail: aet@y.net.ye
A brand new website will be launched soon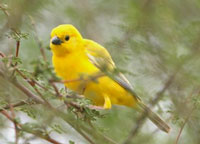 Arabian Golden Sparrow
Arabian Woodpecker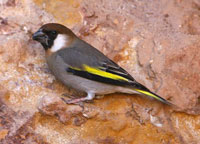 Golden-winged Grosbeak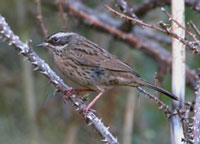 Arabian Accentor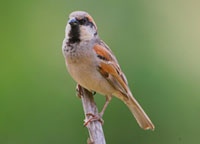 Socotra Sparrow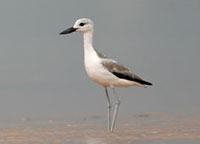 Crab Plover
All bird photos above by János Oláh