Pelagics off New Zealand 2010 – a sample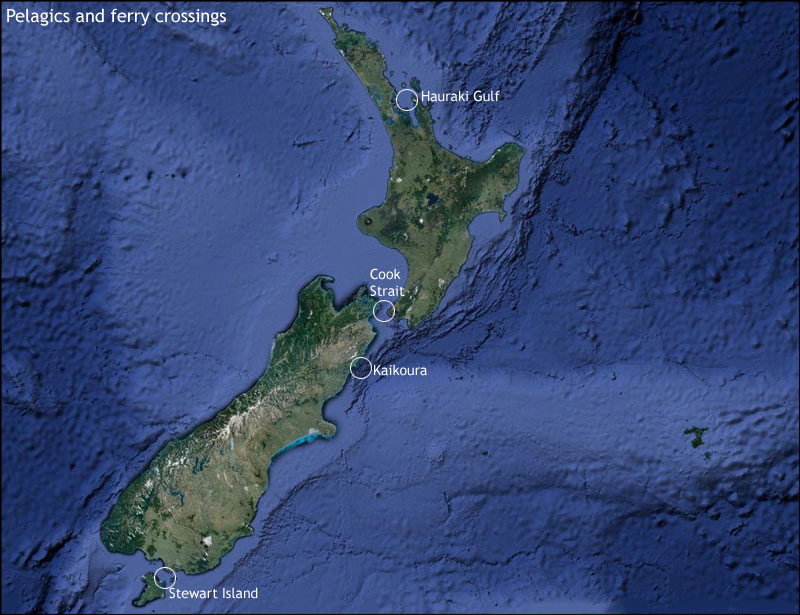 Hauraki Gulf: Half day pelagic (8 Nov) and return ferry to Tiritiri Matangi (8 & 10 Dec); Cook Strait: Ferry Crossing from Wellington to Picton (18 Nov); Kaikoura: 2 x 2,5 hours pelagics (18 & 19 Nov); Foveaux Strait: return ferry crossing to Stewart Island (2 & 6 Dec); Stewart Island; half day pelagic on 4 Dec.


I did one dedicated pelagic trip on my first full day in New Zealand. Unfortunately I couldn't make it to Leigh in early morning pelagic searching for the extremly rare New Zealand Storm-petrel. However, the afternoon trip close to the tip of the Coromandel peninsula was great indeed. The ferry trip between Auckland and Tiritiri Matangi were great to and produced nice sightings of seabirds and schools of common dolphins.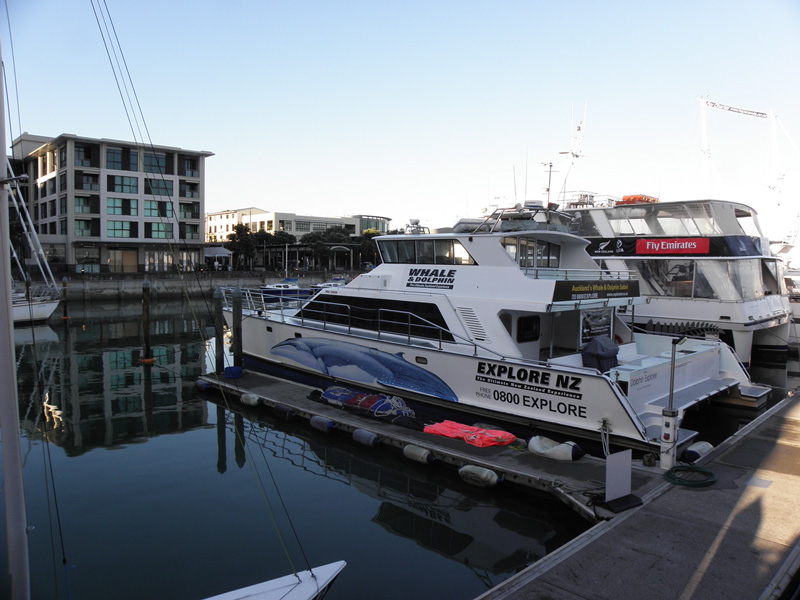 The catamaran during the trip on 8 November were steady and ideal for seawatching as the sea was quite calm during the trip. The captain and the crew (marin biologists) were all very knowledgeable. A very enjoyable trip indeed.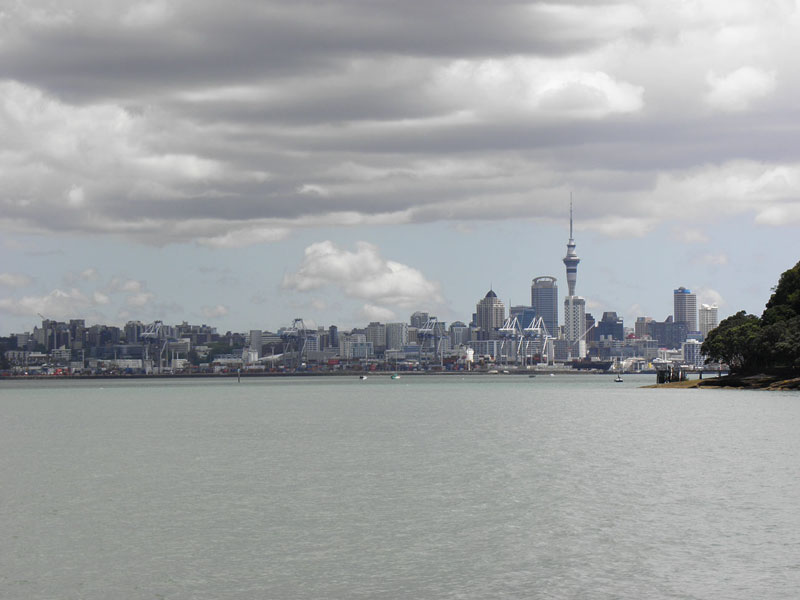 Leaving Auckland behind. I stayed in the very centre of the city and lot of exploring walks on my first and last days in NZ.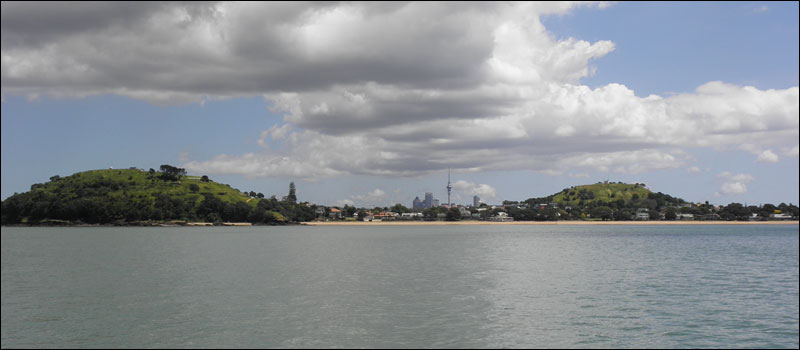 Auckland and the Sky Tower (which rise 328 metres) visible behind North head tip.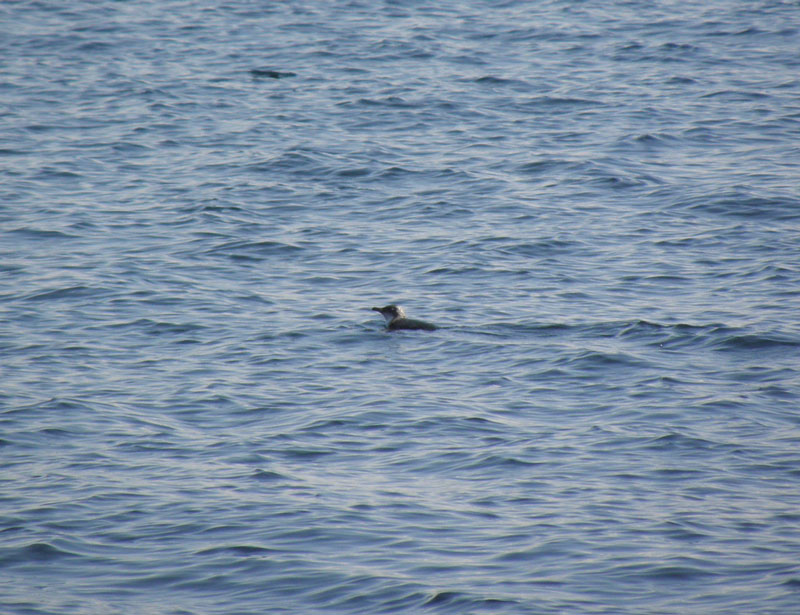 A Little Penguin, which was my first penguin in wild ever! World's smallest penguin with an average length of 35 cm. 5-6 birds were seen.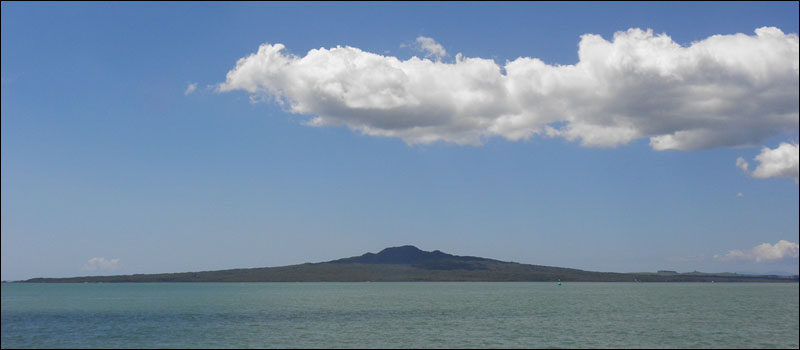 Rangitoto Island is a volcanic island not far from Auckland. Rangitoto is Ma-ori for 'Bloody Sky', with the name coming from the full phrase Nga- Rangi-i-totongia-a Tama-te-kapua ('The days of the bleeding of Tama-te-kapua').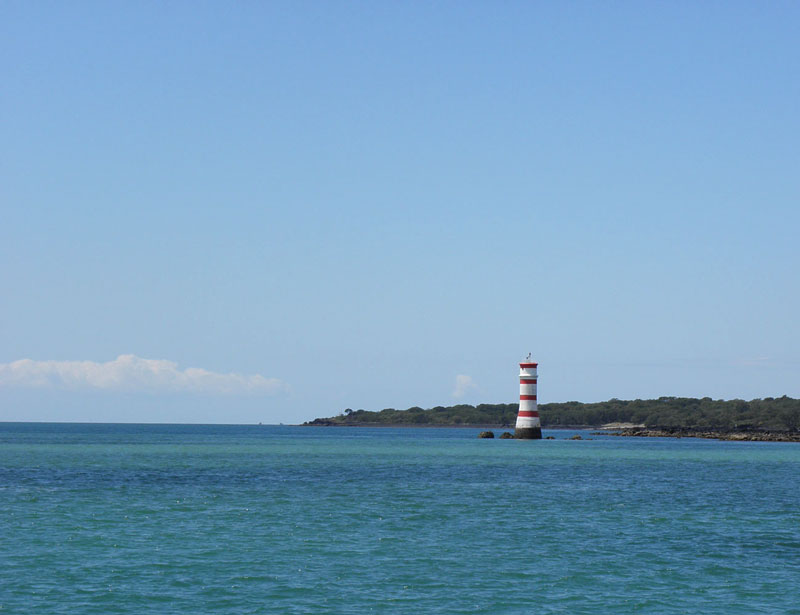 Passing the small lighthouse on Rangitoto Island. And there it was, Hauraki Gulf. Perfect weather and wind conditions. The gulf is a vibrant natural environment, which has however seen significant damage during the 20th and early 21st century from human use. A major study by the Hauraki Gulf Forum in 2011 found that essentially all environmental indicators were still worsening, or stable at problematic levels, leading a major newspaper to title the Gulf a "toxic paradise".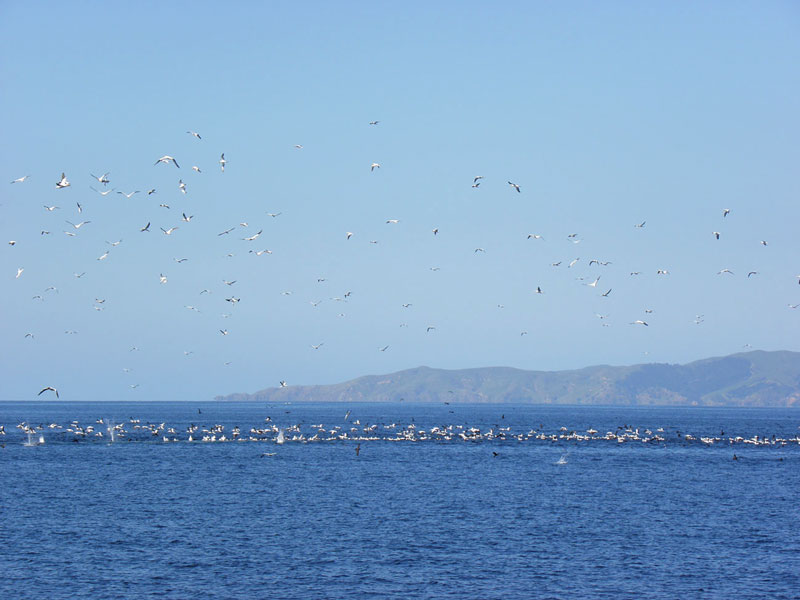 A huge school of fish attracted a vast numbers of seabirds and dolphins. Australasian Gannets were the most numerous, followed by Flesh-footed, Fluttering and Sooty Shearwaters.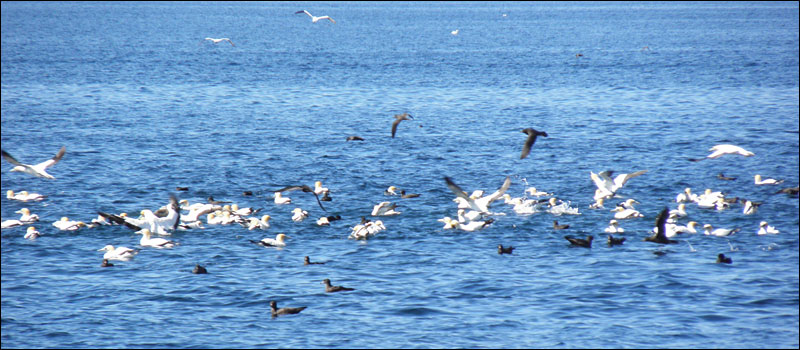 Gannets and shearwaters.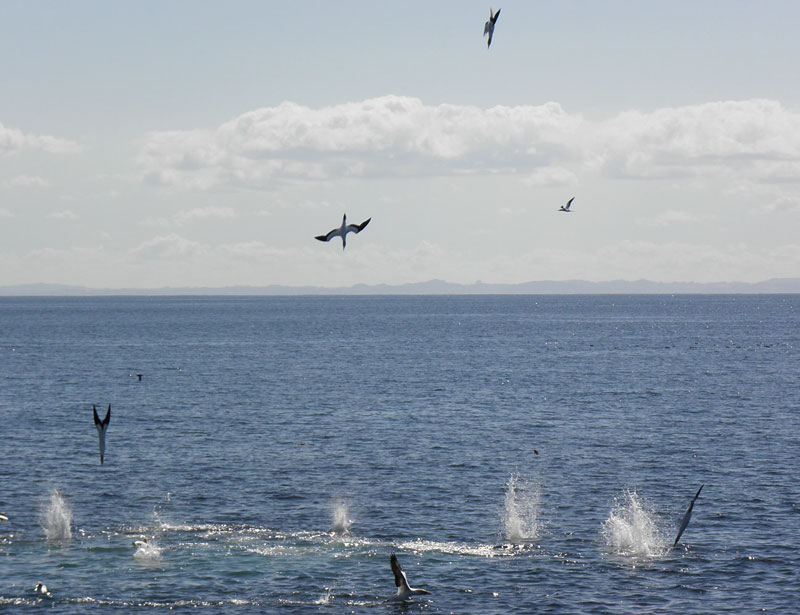 It was incredible to experince the diving gannets close to the boat for 15 minutes or so and hearing the characteristic sound when twenty birds dive through the surface.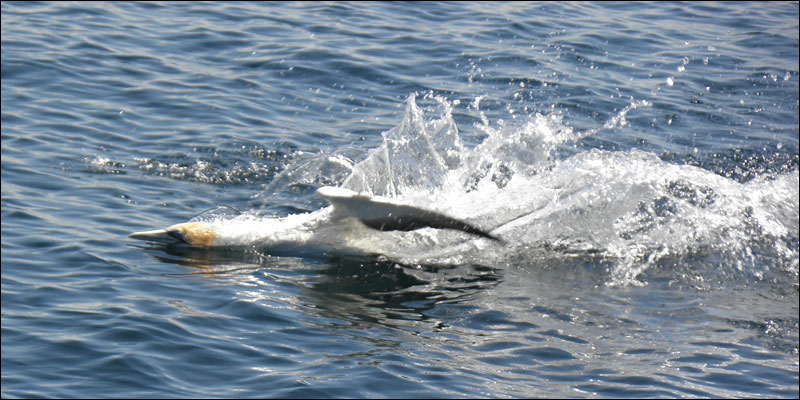 A Gannet coming up to the surface. These birds are huge, with a wingspan up to 180 cm.



A huge Bryde's Whale were present in the area for about 10-15 minutes. One of the largest baleen whale species, ranging between 12-15 metres.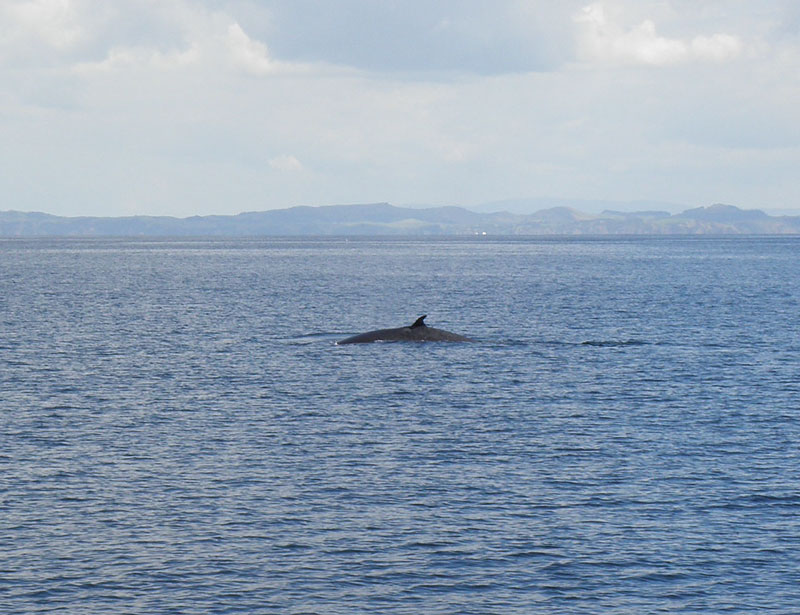 The whale showing its back and dorsal fin before it dive.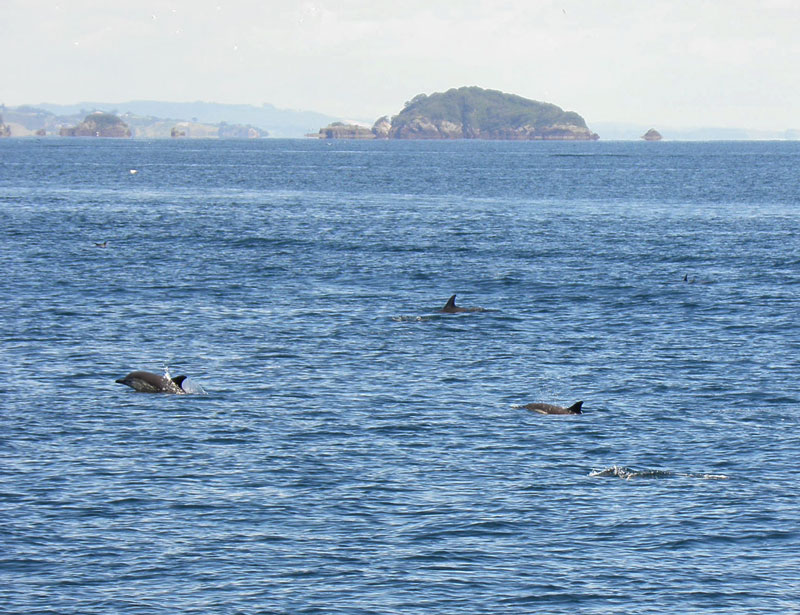 Mall schools of playful common (shortbeaked) dolphins were seen now and then...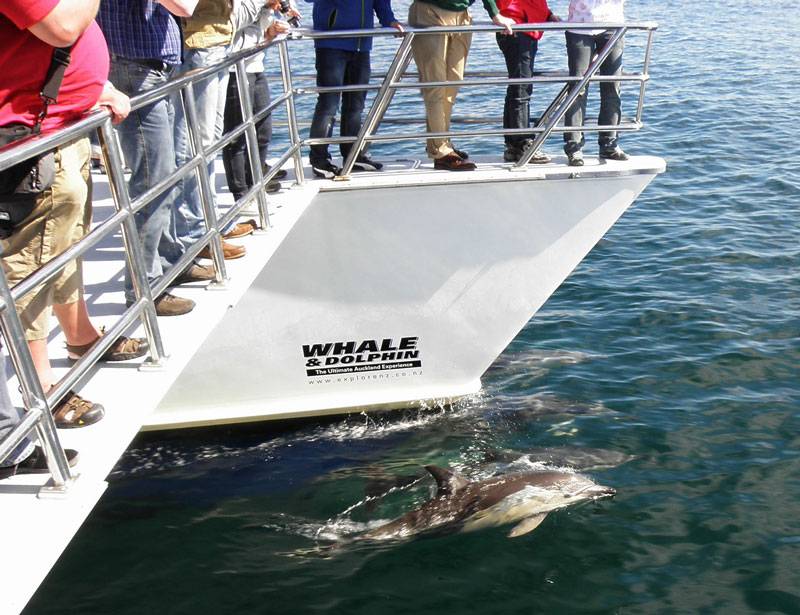 ....several bowride in front of the boat, which offered nice and close views of these lovely creatures.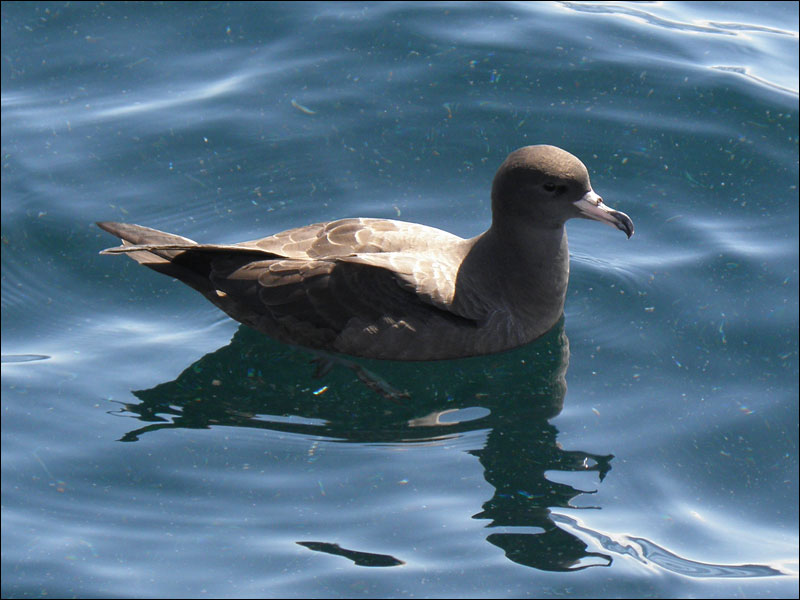 Close-up of a roosting Flesh-footed Shearwater.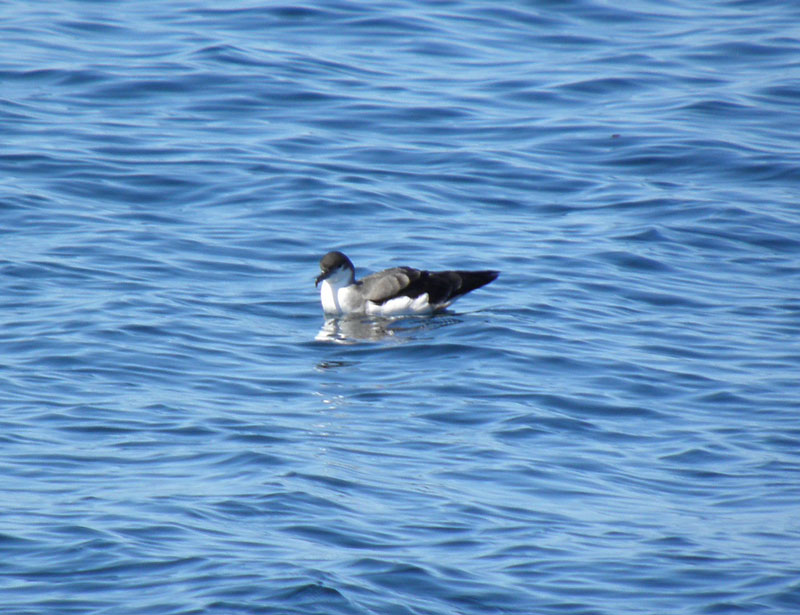 A beautiful Buller's Shearwater alongside the boat.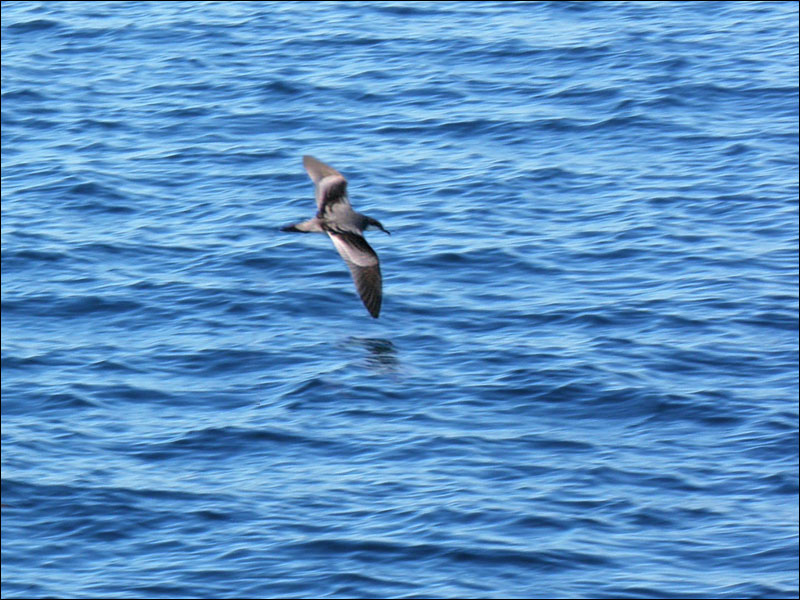 The Buller's Shearwater have a striking wing pattern and its flapping flight makes it easy to identify, even at long distances.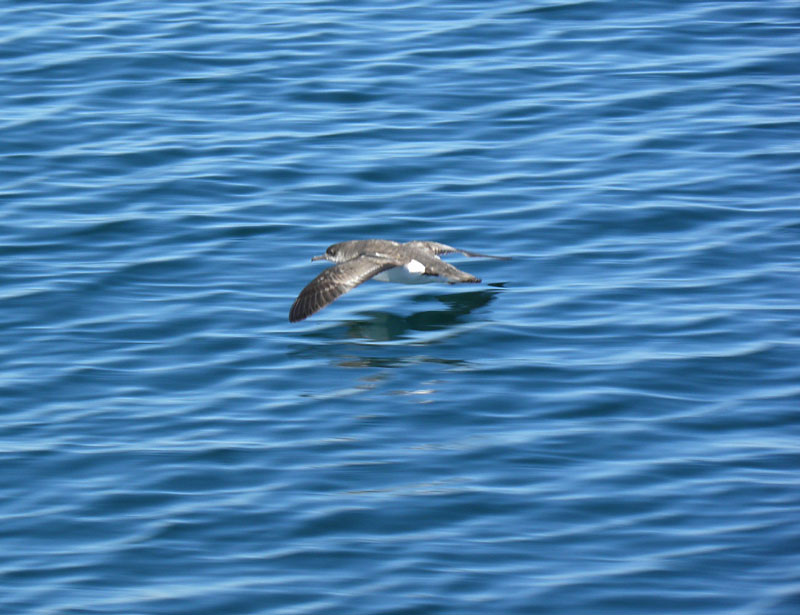 Fluttering Shearwater were quite common, but came more in loose flocks now and then.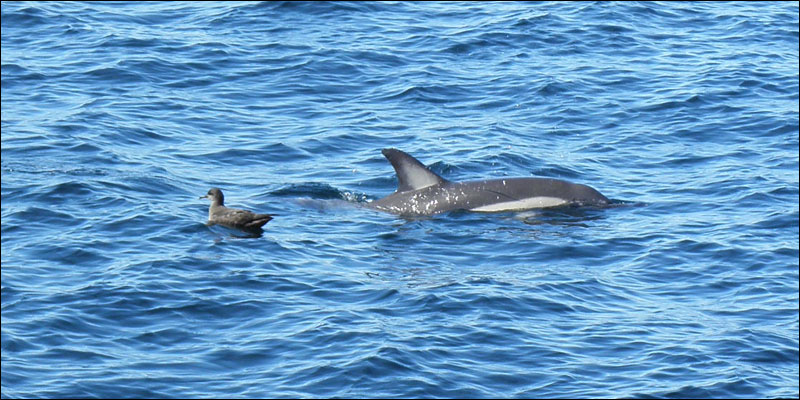 A roosting Fluttering Shearwater and a Common Dolphin passing by.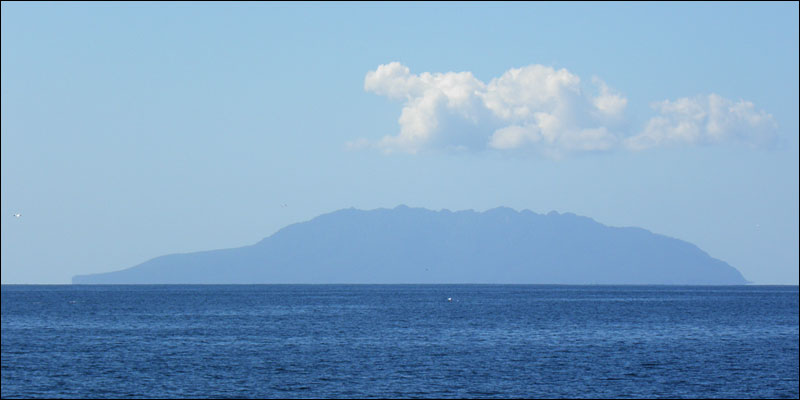 Little Barrier Island (or Hauturu in Mãori). As one of New Zealand's premier native wildlife sanctuaries, it has been described as a "botanical paradise". Almost complete, dense and unbroken bush and tree cover shelter numerous rare or endangered animal species. The Mãori name means "the resting place of lingering breezes". The island is by all means not little and central range (Mount Hauturu) peaking at 722 metres.



The tip of the Coromandel Peninsula and far to left hardly visible the southern tip of Great Barrier,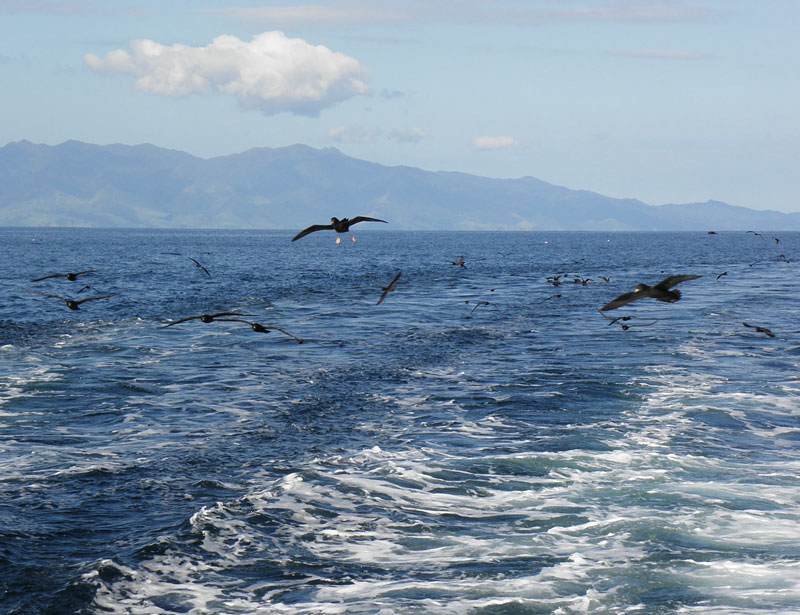 Lot of Flesh-footed Shearwaters followed the boat as the crew threw fish entrails overboard.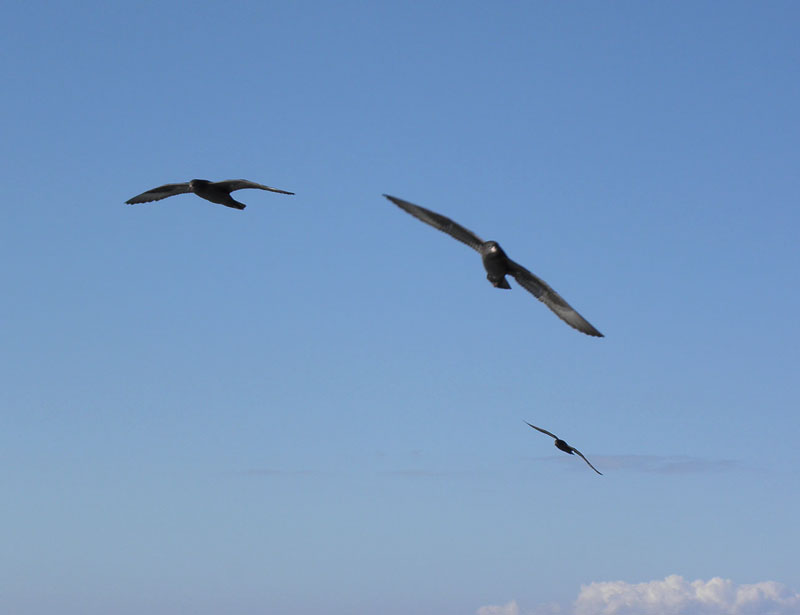 Flesh-footed Shearwaters.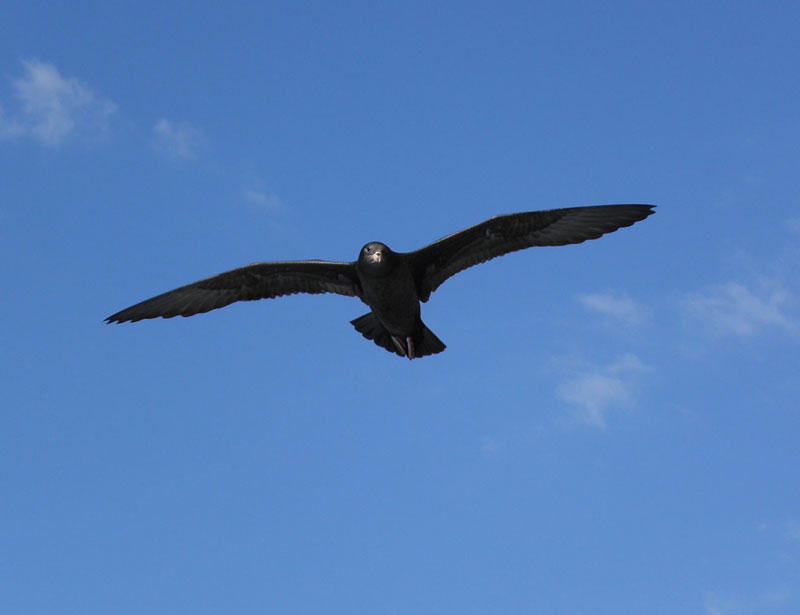 A nice Flesh-footed Shearwater just over head..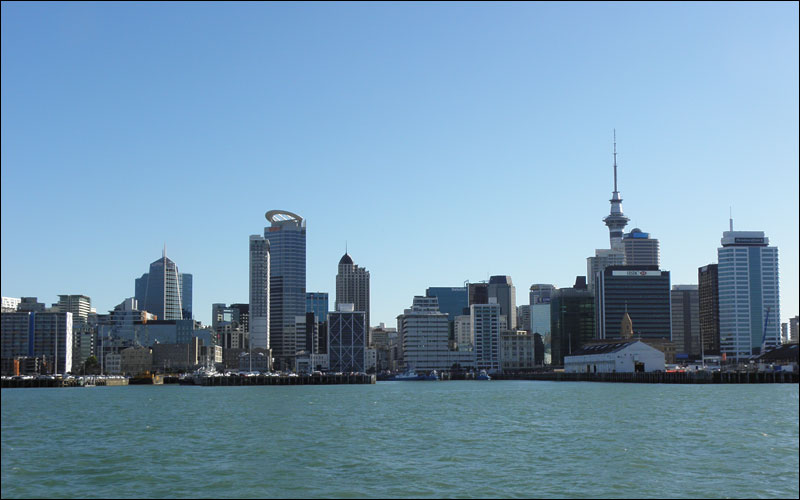 Late afternoon and back to Auckland.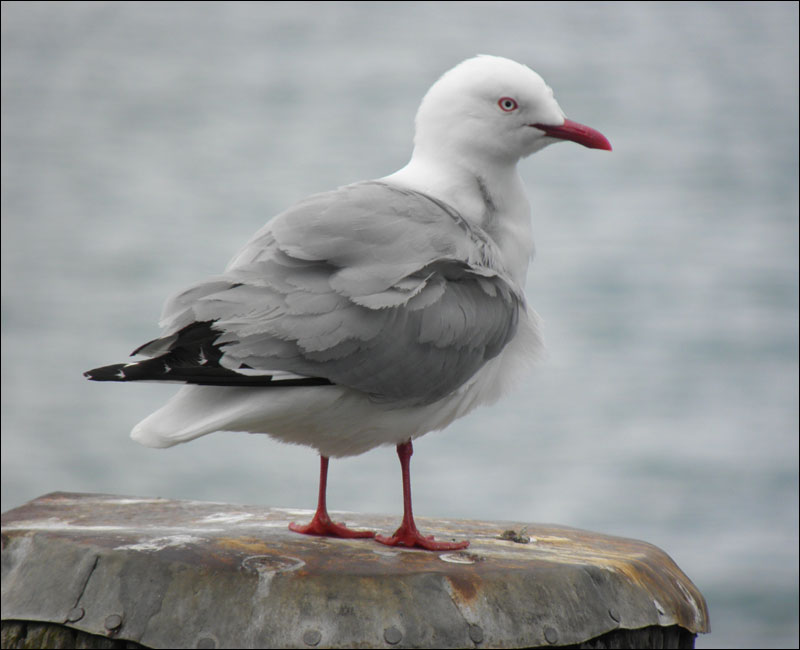 A beautiful adult Red-billed Gull in Auckland harbour.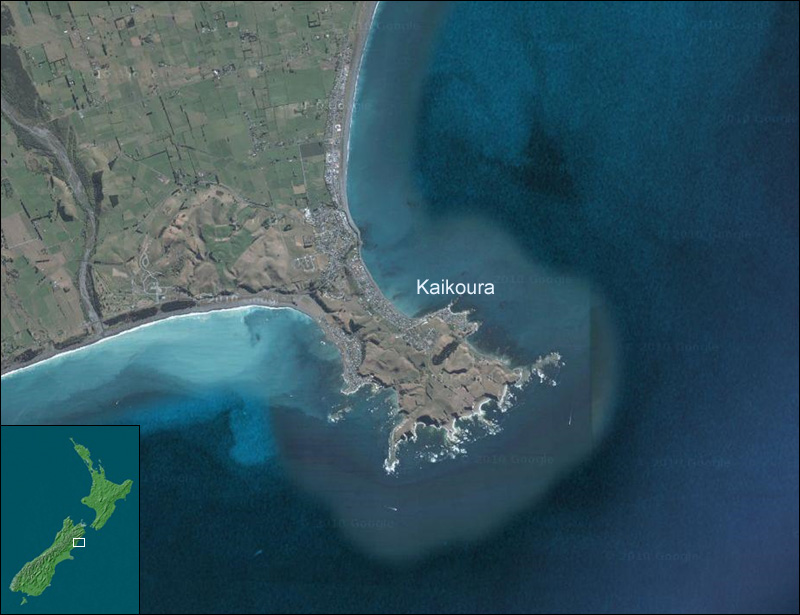 Kaikoura on the South Island is a well-known and famous place among hardcore seawatchers or for those interested to see albatrosses at close range just a twenty minute ride out from Kaikoura. The Kaikoura Peninsula extends into the sea south of the town, and the resulting upwelling currents bring an abundance of marine life from the depths of the nearby Hikurangi Trench. Also, Kaikoura is the only breeding site in the world for Hutton's Shearwater.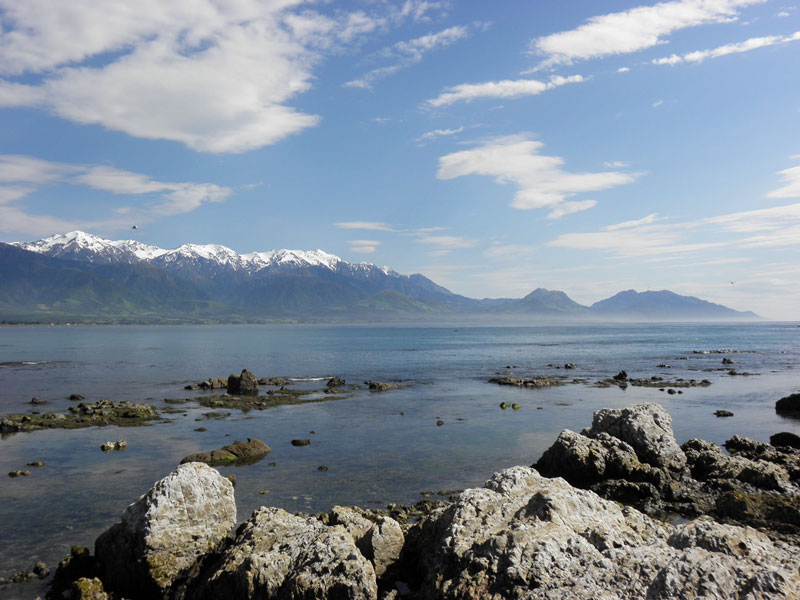 Seaward Kaikoura Ranges seen from the north-eastern tip of Kaikoura.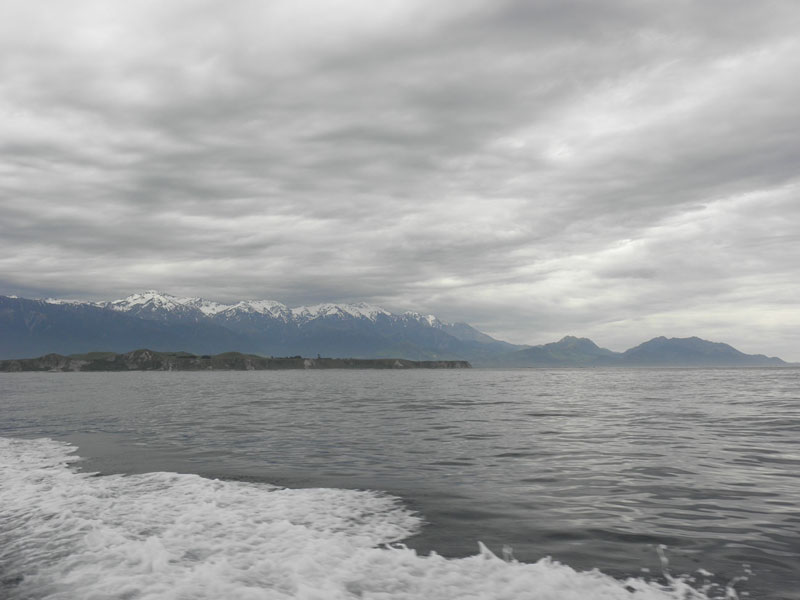 The tip of Kaikoura in foreground with Seaward Kaikoura Ranges as backdrop. Early in the morning me, Dominic and two other birders headed out to the open sea with the kind skipper Gary Melville, a well-known and a keen seabird enthusiastic as well.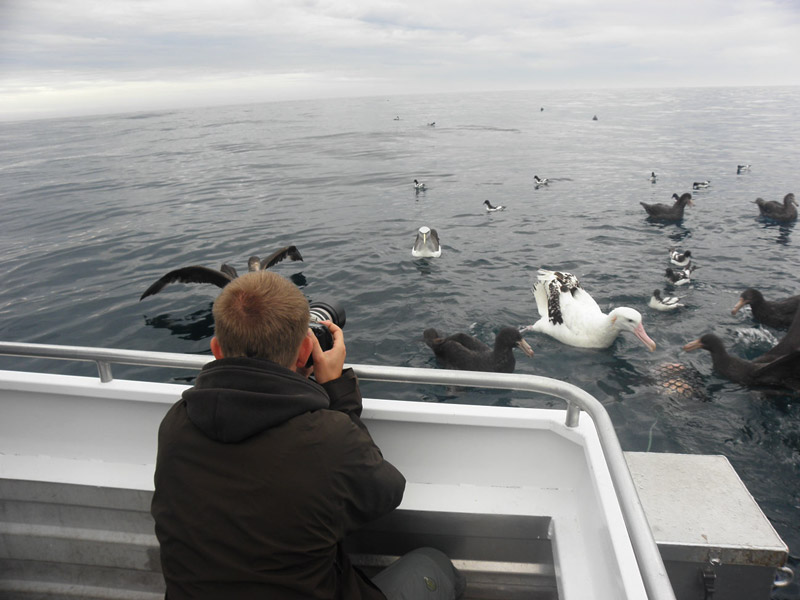 About 30minutes off from Kaikoura Gary stopped the bout and threw a block of frozen fish overboard and suddenly seabirds arrived quickly from nowhere. No need for tele at these ranges, but Dominic only had this lense. Cape Pigeons, Northern Giant Petrels, Wandering and Salvin's Albatross. A very good start and perfect cloudy weather. The Giant Petrels were quite noisy and aggressive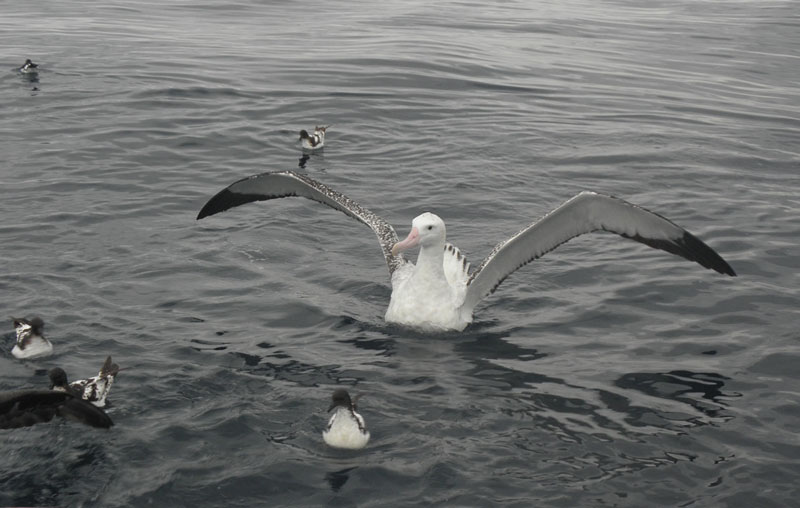 A huge Wandering Albatross, which has the largest wingspan of any living bird, up to 3,5 metres. Awesome bird in flight!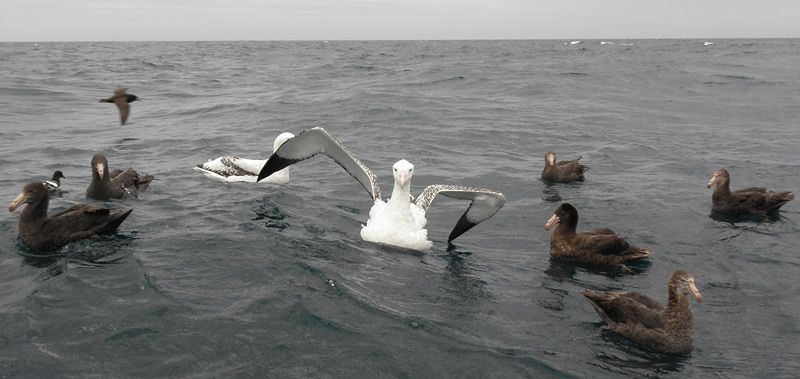 Wandering Albatrosses and a gang of Giant Petrels, the true scavengers at sea. And a Westland Petrel passing by in background.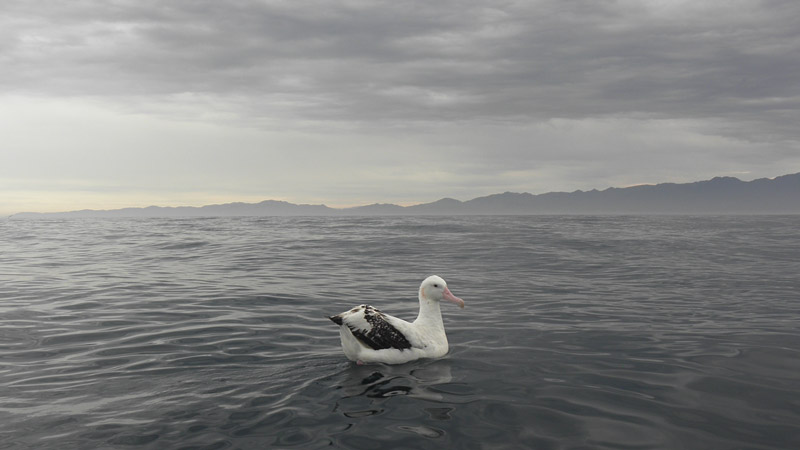 A huge Wandering Albatross.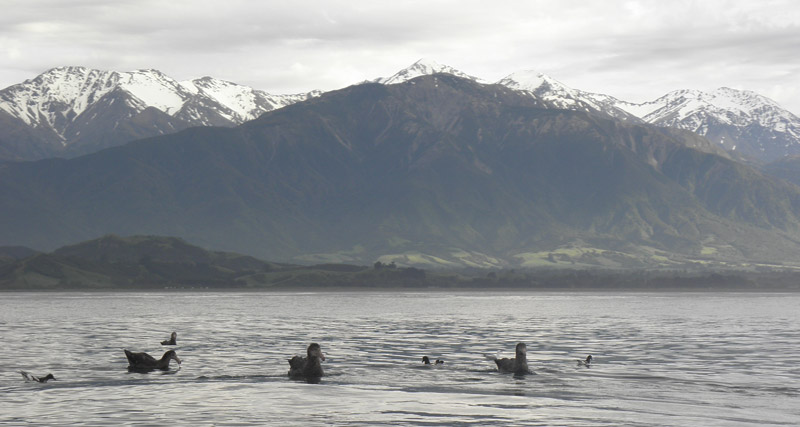 Giant Petrels and Cape Pigeons against a beautiful backdrop that look much as a canvas painting.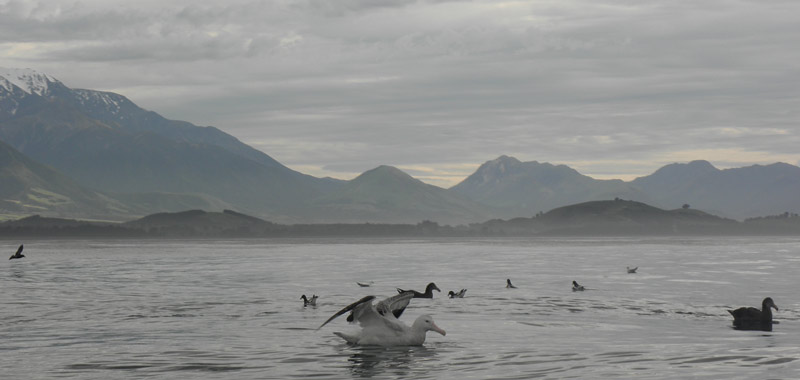 Just a beautiful dawn at sea!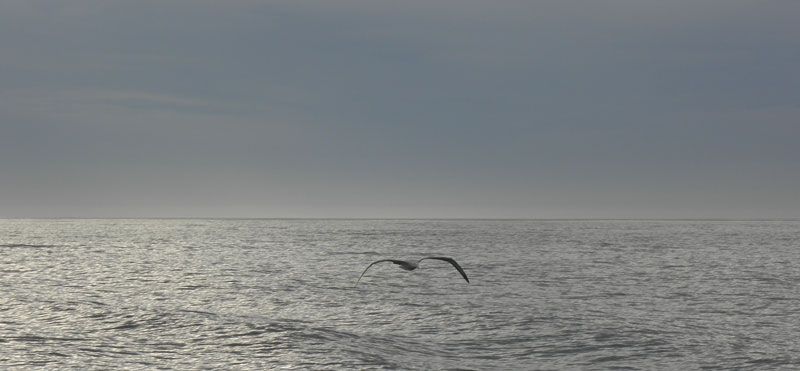 An a approaching Wandering Albatross.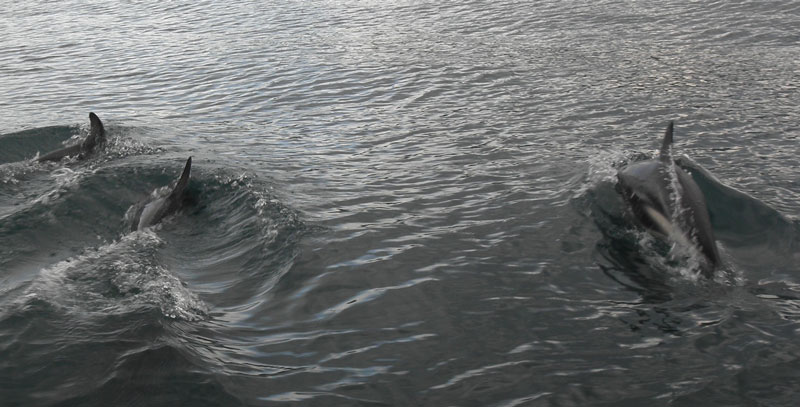 A dolphin lifer: Dusky Dolphin!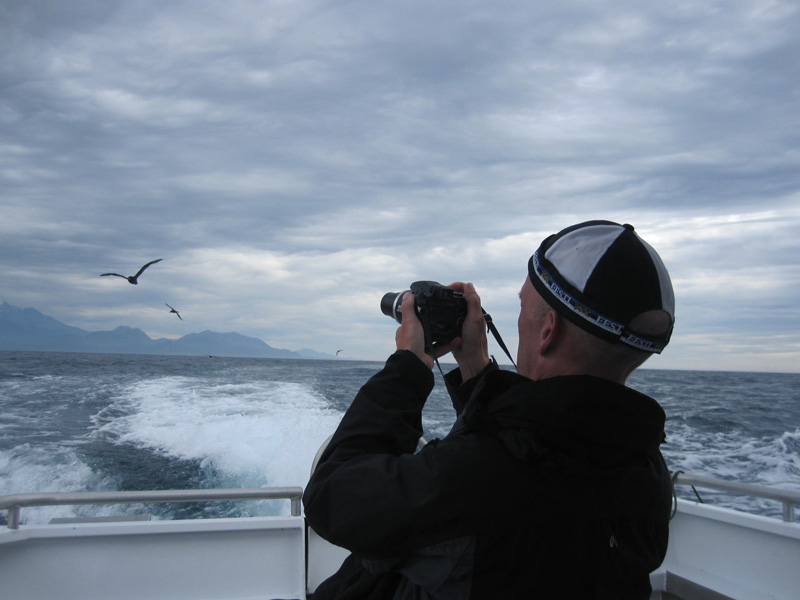 Me photographing Giant Petrels my secon pelagics off Kaikoura. (Photo: Leif-Åke Josefsson, Sweden).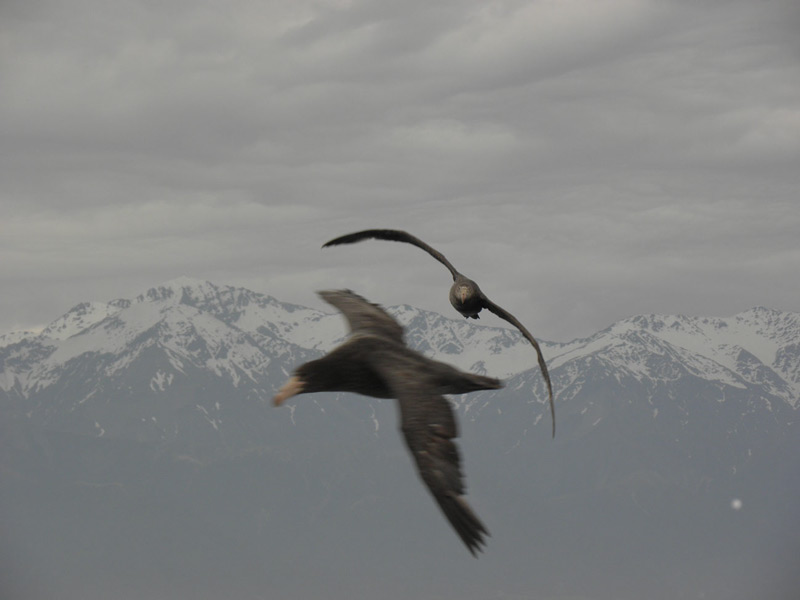 Northern Giant Petrels.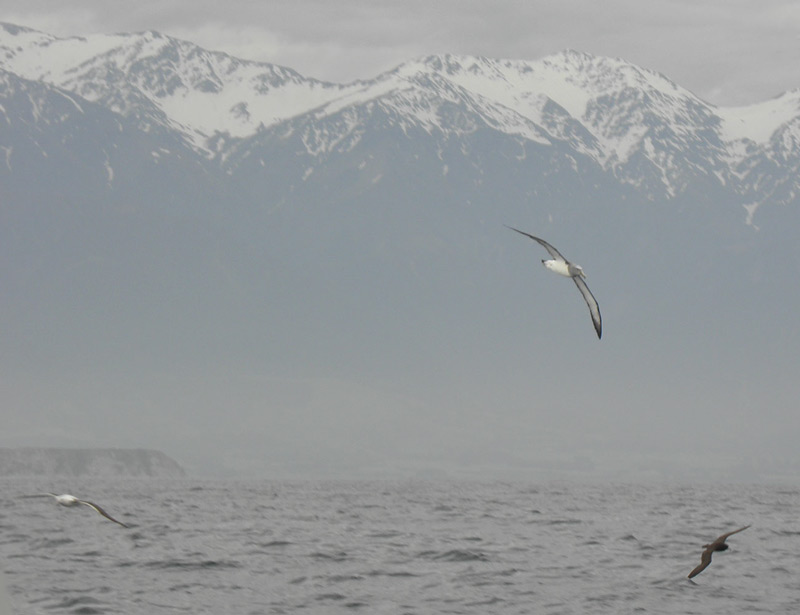 Northern Royal Albatross (left), Salvin's Albatross and Westland Petrel.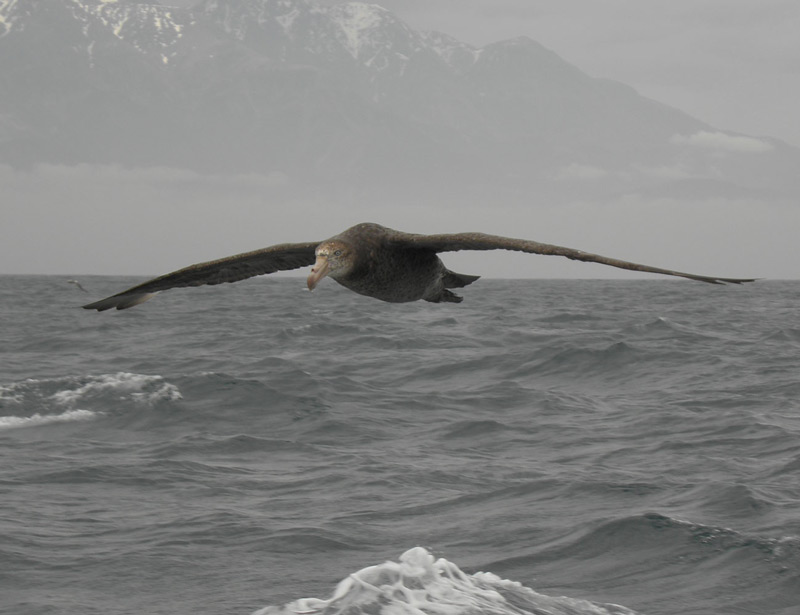 Adult Northern Giant Petrel.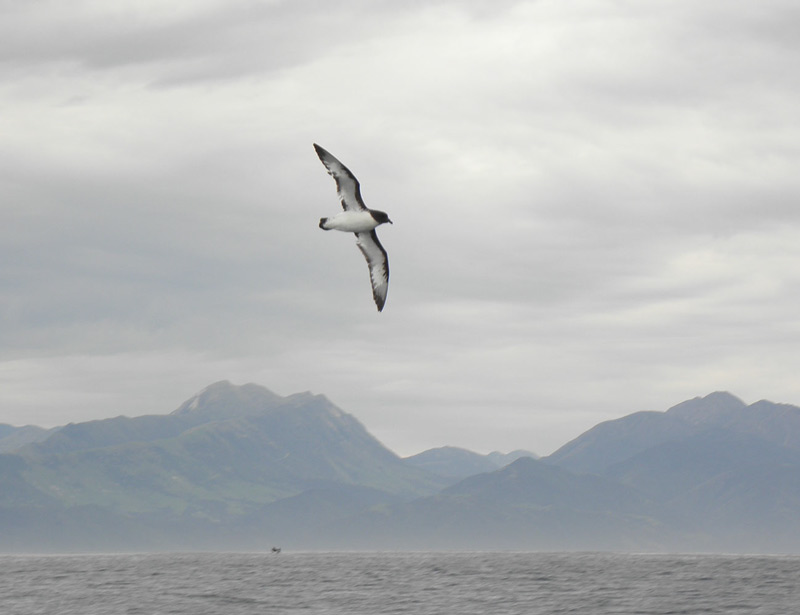 A beautiful Snares Cape Pigeon.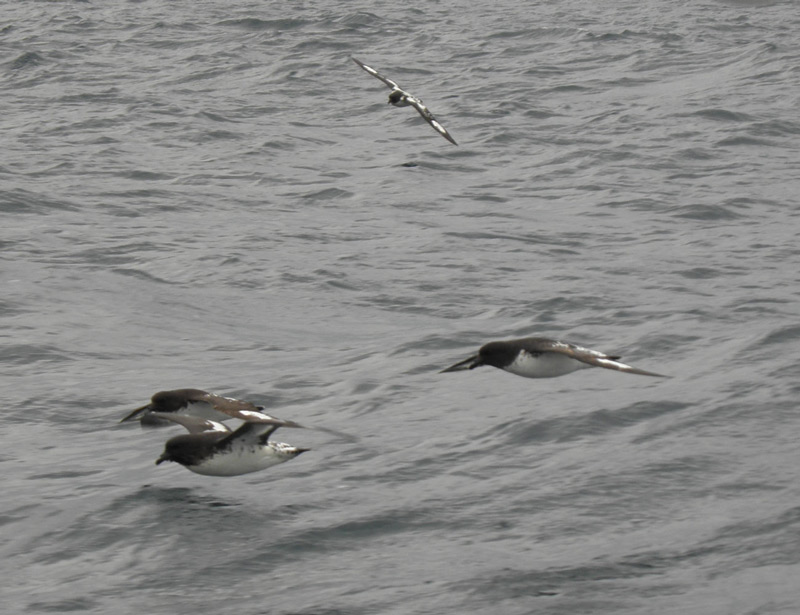 Snares Cape Pigeon, which was the bird that turned up quickly and before all other species.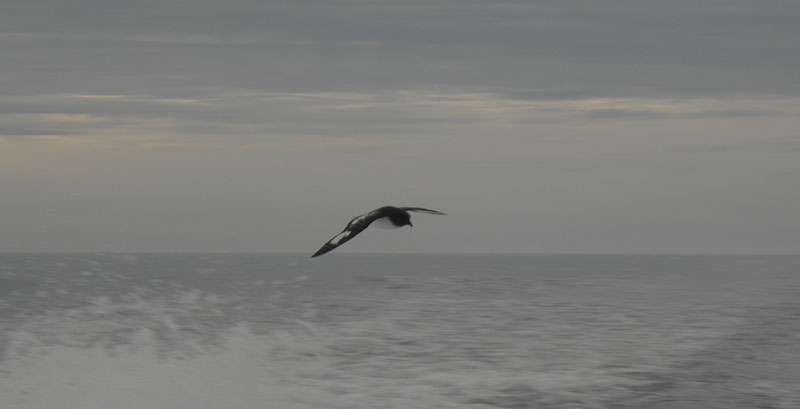 Snares Cape Pigeon.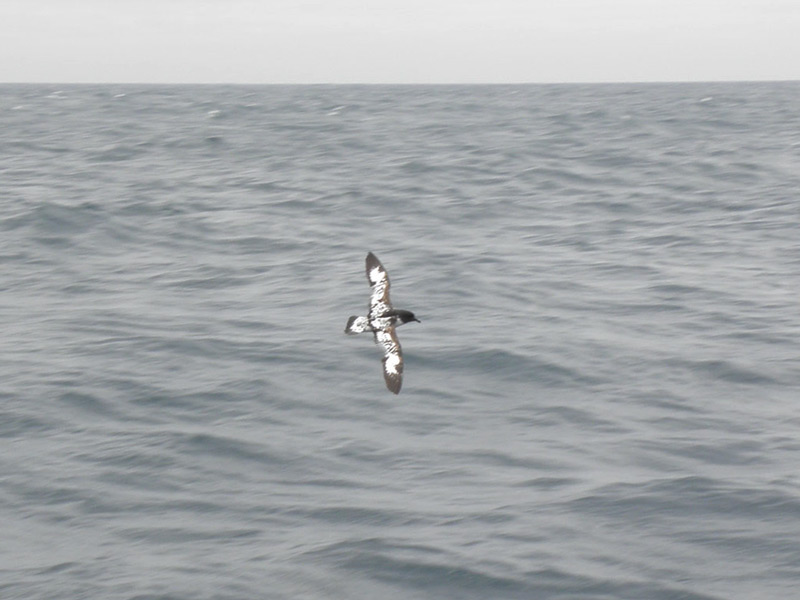 Southern Cape Pigeon, which have much more white on the upperpart compared to Snares, however, consider as race.



Nice party of followers!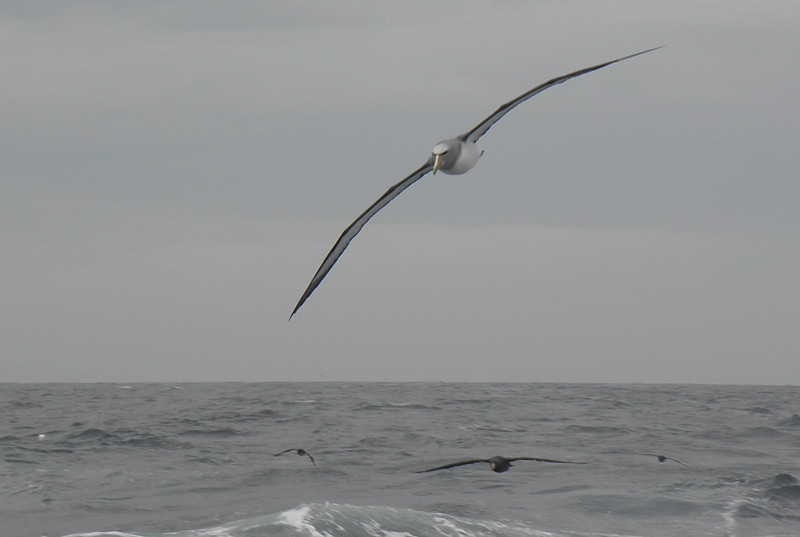 Salvin's Albatross. A real beauty!



Nice looking Wandering.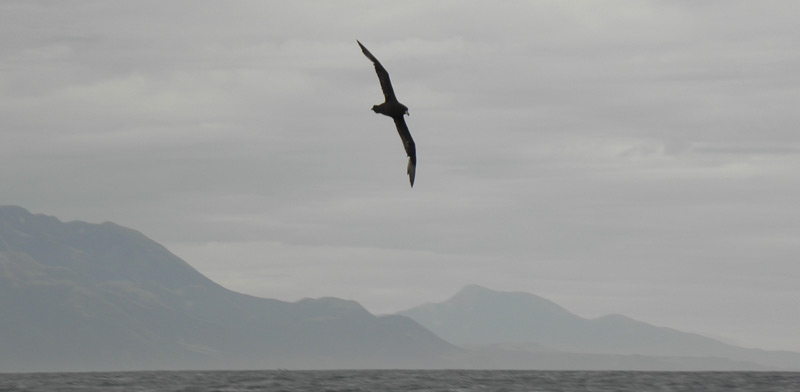 Moulting Westland Petrel.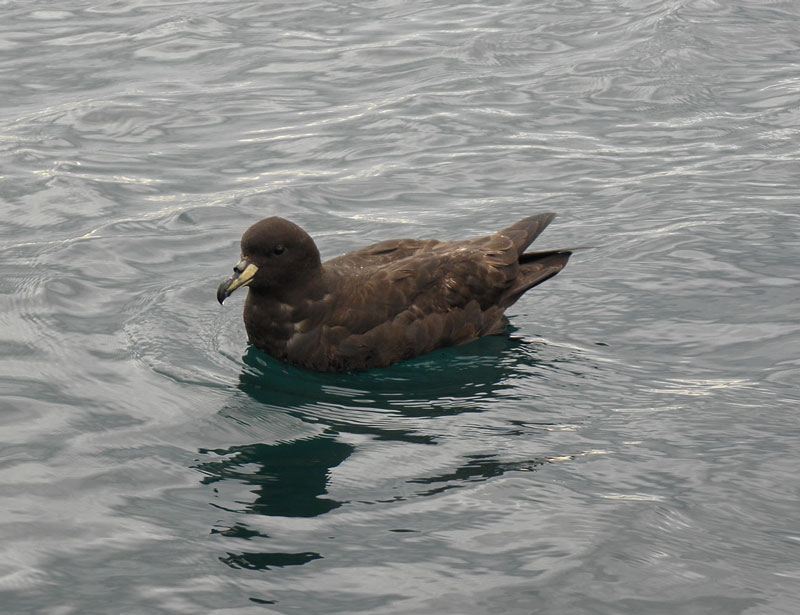 Close-up of a nice Westland Petrel.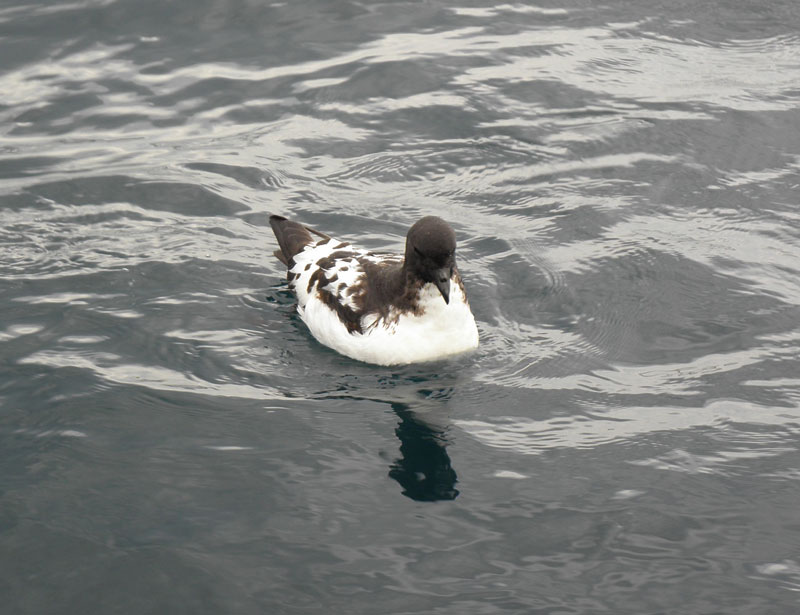 Southern Cape Pigeon.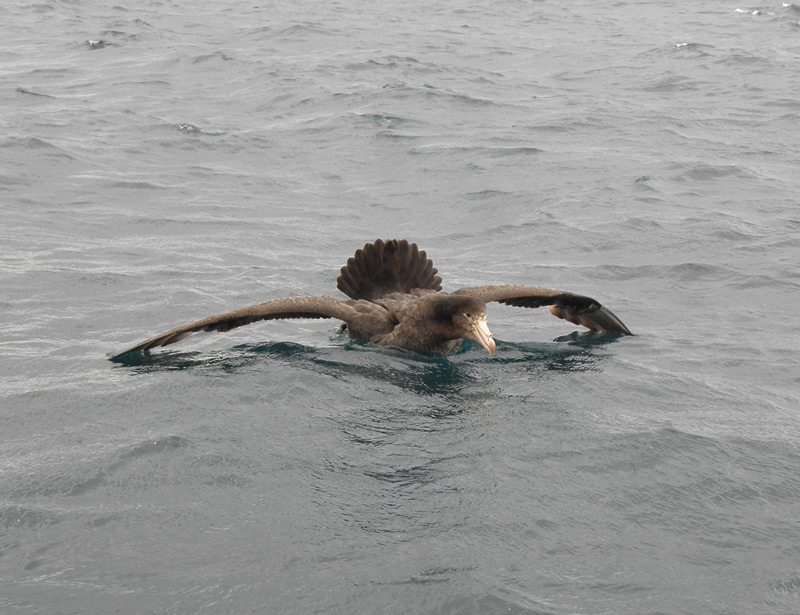 A strange behaviour seen commonly when feeding close to the boat. Probably they hold one's own to keep up with the competition of food.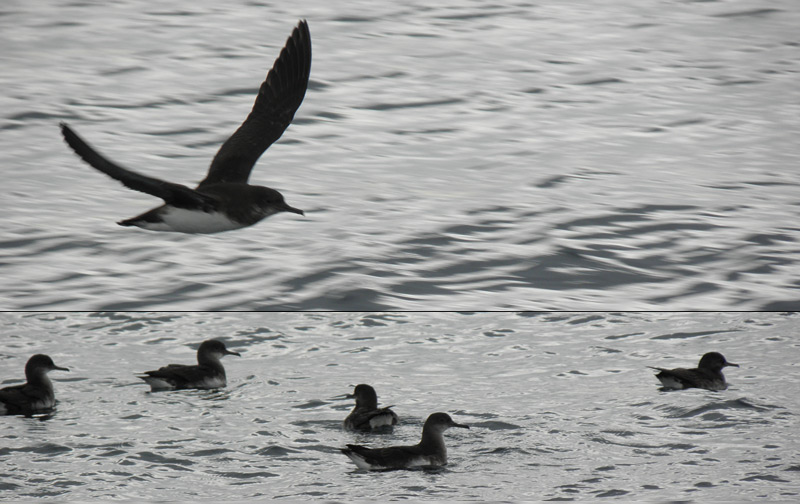 The Hutton's Shearwater is an endangered seabird endemic to Kaikoura. The only place in the world that this species breeds is high in the Seaward Kaikoura Ranges at elevations between 1200 to 1800 metres. If the breeding grounds had not been located in the 1960's the Hutton's shearwater may have become extinct by now.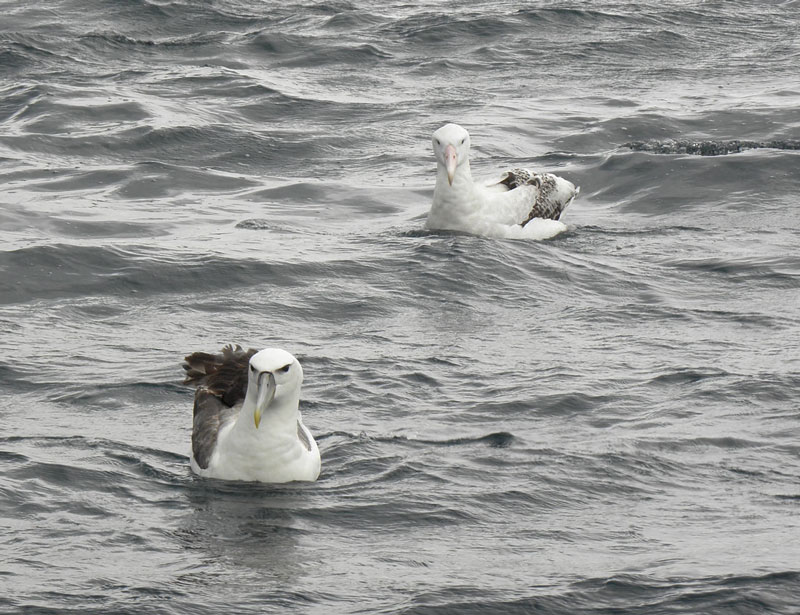 A White-capped and a Wandering Albatross.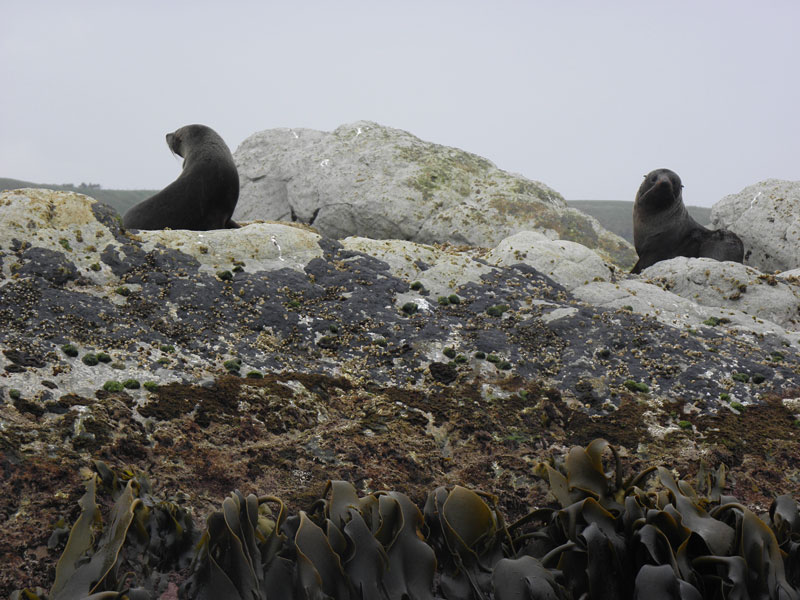 There is also a large and readily observed colony of Southern Fur Seals at the eastern edge.